In one of the many interesting departments in Motorworld Stuttgart, I found it – finished in a powerful Dragon Red II and with 22 inch black rims. There is no doubt that the Bentley Bentayga is a solid chunk of car, with just over five meters from snout to hedge and 222 cm in width. The three meter wheelbase is only one Louis Vuitton bag shorter than the entire length of the Fiat Panda I parked next to later on the journey.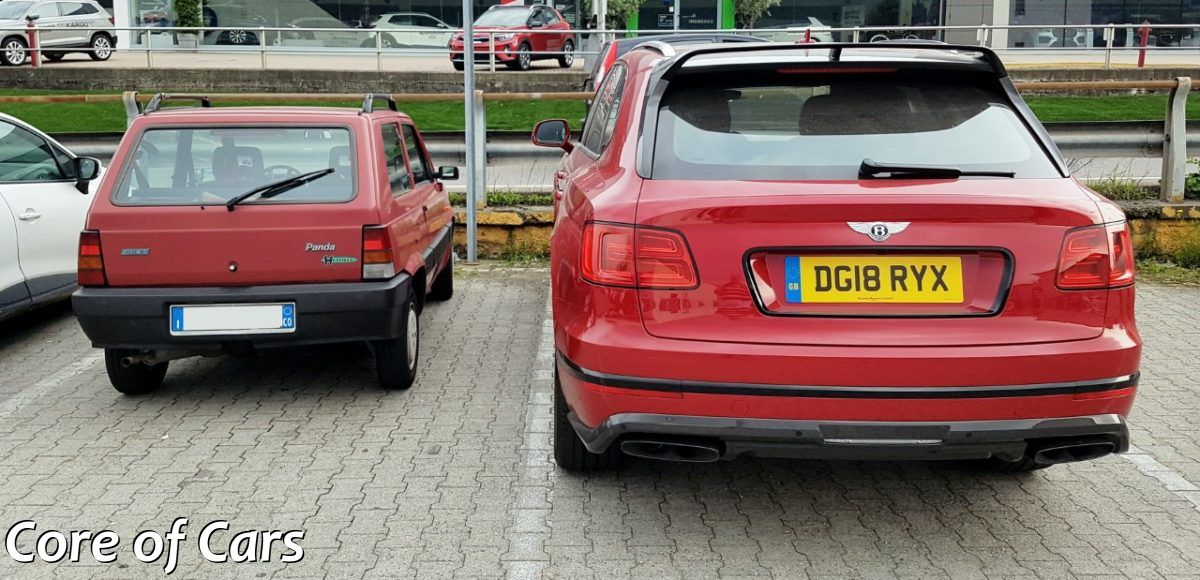 I requested the GPS to guide me to Como in northern Italy and found that my usual challenge of finding adequate space was met with delightful seats of manorial proportions, spacious center console and a sporty steering wheel, all clothed in the finest leather. I quickly learned to appreciate the seat ventilation and the surprisingly concise communication between steering wheel and front wheels. Pedals and footrests covered in sporty bumps were a little surprising, seeing as I was driving without shoes, but provided my feet with a dose of much needed zone therapy. In short, being the driver was very comfortable. Life as a passenger in Bentayga is not despicable either – there was no lack of comfort anywhere in the cabin, and the trunk corresponded well with ample load space.
As you may have imagined, Bentley have done much to justify the S in SUV, thus transforming a medium-sized cabin into a sporty vehicle. The laws of physics struggle to keep up when 2.5 tonnes of Bentayga reach 100 km/h from stationary in just over four seconds, but a large part of the explanation is to be found under the hood. 608 horsepower and 900 newton meters from a six-liter W12 are enough to wonder if it's the car or globe that has the more work cut out for it. Four 285 mm wide tires also help to keep near to mother earth.
Despite the massive measurements and despite the fact that it will not interest owners, the Bentayga W12 manages to get through the day with less than 15 liters of fuel for 100 km. Taking into consideration a bit of spirited driving and some city maneuvering, I reached the same result. Speaking of city – this car is not designed for your average narrow city streets, parking spaces or parking houses. Parallel parking requires a hint of the giants' land from Gulliver's travels, and I can personally recommend against parking in a parking garage. Let's just say that folding side mirrors are a necessity in some cases.
From Stuttgart, the journey went through picturesque Switzerland to Como, where I drove straight through Cernobbio, the city where Concorso d'Eleganza Villa d'Este is held in May every year. It was no coincidence that I arrived the day before this year's edition – if you like nice cars from all eras, this is the place you'll see the very best. The surroundings, with villas and parks on the shores of Lake Como as the scenery, are second to none. Even in such conditions, the Bentayga turned the heads of fashionable gentlemen and perhaps the odd well-hatted lady.
In city traffic with Italians on their home turf, I found out that size and engine noise instill respect. I sailed elegantly through the streets and hummed along to the music flowing undisturbed from the most impressive Naim system. Having Beethoven's seventh from the speakers, Lake Como in the sideview and six hundred dressage horses under the hood was simply a pleasure. My accommodation proved to be an elegant villa with a view, especially from the circular bathroom windows that were almost as tall as myself. A quick glance at the Bentayga from my room emphasized the powerful first impression.
After a great weekend filled with old and new acquaintances, both cars and people, I once again received courteous instructions from the lady in the GPS on my way back. As the Como province borders Switzerland, I soon found myself in the home of the cuckoo clock. There were almost too many clichés at one time when – Alps growing closer, cows on green grass, sky blue lakes – I got a sprinkle of freshly cut Swiss herbs over the car as I entered a tunnel. Landscapers in safety harnesses with lawnmowers in hand over tunnel openings – they take maintenance seriously in Switzerland.
The varying weather forecasts gave me enough hope to head for the St. Gotthard Pass, but on the way up the mountain sides it became more and more evident that the weather forecast showing clouds was correct. Shrouded in white, I continued in what seemed like walking pace, and I wasn't very happy with the thought of driving several kilometers with greatly reduced visibility, not least because it may be difficult to assess how quickly others consider it advisable to drive under such conditions, coupled with the fact that I would prefer to avoid accidents and damage to a car that costs a quarter of a million euro plus fees. The sigh of relief was performed not long after passing the highest point, and even with six degrees and rain it was wonderful to enjoy the sight of green valley sides and still snowy peaks around me.
After the last border crossing, it was time for the Bentayga to stretch its legs. It shrunk kilometres with surprising ease – there was no drama in keeping the speed north of 200 km/h as I swooshed along the Autobahn, direction Stuttgart. Unevennesses in the corners reminded me that I was underway in a big car, but on the straights, the school run vibes were long gone. As a long-distance runner, the Bentayga really comes into its own, and I wouldn't be surprised if many of those who have a Bentayga in the garage give the odometer a lot of work. And, if you spend a lot of time on the road, the Naim sound system at 6,685 euro and the Breitling clock at a tad over 3,000 euro will keep you entertained and updated. This is undoubtedly a car for people with deep pockets, people who want to take part in the history and tradition of Bentley, but at the same time run the kids to school and do a bit of grocery shopping. At that private school in Geneva and that ham producer's outlet in Parma, that is.