"I'll show you a few things before Filippo arrives", head of PR Umberto told me as he welcomed me to ItalDesign. Filippo Perini, head of design at ItalDesign and formerly head of Centro Stile Lamborghini, had just called me to say he would be running a bit late. No worries, though, because Umberto had his sleeves brimming with aces.
We first entered their museum, which houses mainly unique prototypes and design concepts, such as the Bugatti pair EB112 and 18/3 Chiron, the VW W12 Nardo and the Parcour. Umberto told me that some of the cars would head to restoration for ItalDesign's 50th anniversary next year. The interior of the EB112, for instance, was starting to show its age, but still gave me that feeling of occasion when sat inside. The W12 Nardo was a pleasant surprise, offering ample space and a well thought out interior. Giugiaro is a big name.
Our tour of the factory contiued, and Umberto opened many doors that unveiled projects and building processes, such as a few Zerouno coming together, some with very substantial aero modifications (that rear wing looked great!). The one and only running Bugatti 18/3 Chiron in one of the workshops undergoing complete restoration. One of the men at work there also was part of building it those nearly 20 years ago, and told me that if that unique engine was broken, there was no parts or substitutes for it. No pressure, then.
A white Zerouno was facing heavy rain outside a gate, luckily for us only inside a watering rig. The products from ItalDesign undergo rigorous testing, and are meant to be proper, useable cars. Being a part of the VAG group, I have no doubt that there are resources to ensure top notch end products.
A red and black Zerouno parked outside, covered in road dust from extensive road testing, gave me a chance to see the car in a slightly more relaxed setting compared to Geneva and Salon Privé. What I saw, appealed to me – the Zerouno's combination of complexity and long, curvy lines can make it a challenge to grasp, but in that moment, dirty and all, it all made sense.
The next bit I might not be supposed to say anything about, but I was handed a VR headset and pushed some buttons on the hand controllers to be given a view of things yet to come. Let's just say that if the Zerouno loses its top, things could get really good-looking.
Enter Filippo Perini, eager to get my response on what I've seen. There's no doubt the Zerouno shares a lot of recent Lamborghinis' design cues, but seeing as they were designed with the same guy holding the pencil, there are no surprises there. The Perini look will continue to colour the automotive design world for years to come.
Filippo invited us to join him in his office, where he continued the tale of the Zerouno and how its design combines form and function. After all, if you can't beat air resistance, you'd might as well ally up with it. What do you think of autonomous cars, he asked me. We more or less agreed that the main obstacle to autonomous driving is the human race. Would you relax and trust in an autonomous car? And full-electric cars? Will they ultimately be limited by how many batteries can be produced? What happens when the old batteries go to their final resting place? Where will the large markets (e.g. China, India) get the electricity from? So many questions, so few answers.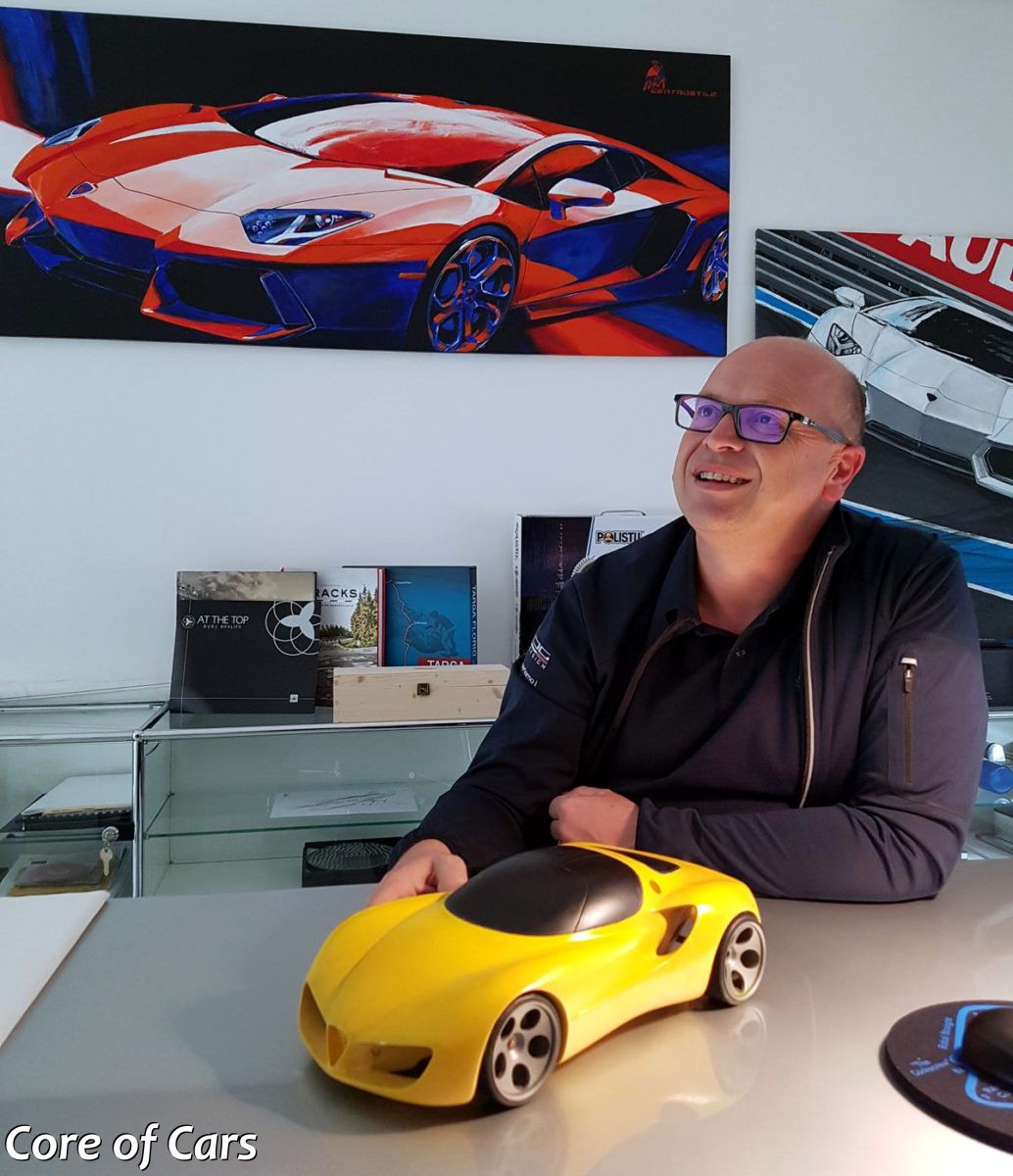 Filippo Perini with a scale model he made from scratch in his early designer years.
"I have to show you something", he then said, heading out of his office, returning shortly after with a black folder with an inconspicuous Lamborghini logo on the cover. "Do you know the story of the design of the Aventador J?" I got a feeling I was in for an interesting narrative, and the story of how he designed the Aventador J over a single weekend on a tight deadline sure didn't disappoint.
After spending several pleasant hours with Umberto and Filippo, I left the Moncalieri premises with a sensation that I would be seeing much more from the hands of Perini and ItalDesign in the near future. I sure don't mind.